The city of Las Palmas de Gran Canaria.
https://www.laspalmasgc.es/es/
The Meeting – location
The meeting will be held at the Faculty of Economics, Business and Tourism (Campus de Tafira. 35017. Las Palmas de Gran Canaria). http://www.feet.ulpgc.es/
The University Campus can be accessed via different urban transport lines:
Theatre – University Campus: https://www.guaguas.com/lineas/7
Auditorium – University Campus: https://www.guaguas.com/lineas/25
Santa Catalina – University Campus: https://www.guaguas.com/lineas/26
Transfers from hotels
The hotels arranged with the travel agency are Hotel Imperial Playa, Hotel NH Playa de las Canteras, Hotel Exe Las Canteras, Hotel Alisios Canteras and Maresía Canteras. These are located around two areas of Las Canteras beach.
The local committee has arranged a bus connection between both areas of Las Canteras (bus-stop 1; bus-stop 2) and the faculty. The first and second day of the meeting will include transport to the faculty (in the morning) and back to the hotels (in the afternoon). The timetable for each day will be indicated in the final programme.
Mobility around the city 
Santa Catalina Park and the bus station are 2 minutes away from Las Canteras. The urban buses (guaguas) are yellow and from the Park you can take the main lines to visit the historic area of the city: Triana-Vegueta. You should not miss, during the day to visit it, or at night to have a drink in its many bars and restaurants around the cathedral. In fact, in Vegueta is the rectorate of the ULPGC, where we will have Thursday's cocktail.
From the bus station there are also the blue guaguas (Global) that travel to the three main routes of the island, the central zone, the northern zone and the southern zone. In this area are the famous beaches, in particular Maspalomas. The bus takes about 40 minutes.
To go from the airport to the city, take line 60. If you go to the Canteras area, you will get off at the last stop (Santa Catalina). It costs 2,60€. If you go to the Vegueta-Triana area, you will get off at San Telmo. It costs 2.30€. The timetables are available on Internet: http://www.globalsu.net/es/lineas.php.
If you like walking, don't hesitate. From the hotels to the Auditorium is a very pleasant walk on the beach. You can also walk from the Port (Canteras area) to Triana-Vegueta by the Avenida Marítima, which is pedestrian. A word of advice: enjoy the city on foot.
Gastronomy excursions
Passing the airport, towards Las Palmas de Gran Canaria, there is a coastal district called Melenara, where there is a restaurant, Casa Perico, where you can eat authentic Canarian food, potajes, gofio (don't miss it), lapas, tacos de cherne, papas con mojos and any fish you like. Closer to Melenara Beach you will find several restaurants on the promenade where you can eat fresh fish and other Canarian dishes (La Rubia and La Posada del Mar are well known).
Towards the center, go to Roque Nublo, our emblem, highest point (and image of the congress this year). From San Mateo to Teror there are many restaurants, one eats goat or machorra meat, scalded gofio, stew, potatoes with mojo, etc… no fish.
To the north, you can visit the Puertillo or San Felipe, with natural pools, where you can have a bath, and some restaurants. A little further there is a fishing village, Agaete, with many places to eat fish.
Recommended restaurants (without commissions): 
Restaurante de cuchara. Calle Alfredo L Jones, 37 https://www.restaurantedecuchara.com
De Cuchillo y tenedor. Calle Dr. Miguel Rosas, 41. http://www.decuchilloytenedor.com
Allende, puerto. Calle Isla de Cuba, 42. (There are two more in the "Muelle Deportivo" in the Comercial Center "Sotavento" and Triana)  http://www.allenderestauracion.com
Basal Grill & Beach, Paseo las Canteras, 41 (Grilled meat and fish) http://www.allenderestauracion.com/basal-grill-y-beach/
Restaurante Kyoto. Calle Barcelona, 13.https://www.restaurantekyotolaspalmas.com (japanese restaurant)
El churrasco. Calle Olof Palme, 33 (Meat) http://www.elchurrascorestaurante.com
Novillo Precoz. Calle de Portugal, 9 (Meat) http://www.novilloprecoz.es
Restaurante Marrakech, (Calle Juan Manuel Durán González, 46)(Moroccan cuisine)
Restaurante Clandestino. Calle Dr. Miguel Rosas, 8 https://www.facebook.com/restauranteclandestino.laspalmas/
Restaurante Piemonte. Paseo de las Canteras, 48 (italian)
Casa Carmelo. In the Canteras beach, in front of the sea. http://www.restaurantegrillcasacarmelo.com. (recommended: meat)
"Los años locos", near the hotel Cristina.
Restaurante Pizzeria Pulcinella, La Naval 4.
Spanish food
Camino al Jamonal: https://www.facebook.com/migueljamonal/
La Macarena: https://www.facebook.com/lamacarenatallerdecocina/
La lonja: https://www.facebook.com/TascaLaLonja/
International food
El novillo precoz (uruguayan food): http://www.novilloprecoz.es/
Fuji (japanese food): http://restaurantefuji.es/
La bikina (international food): https://www.facebook.com/labikinacantina/
Summun (peruvian and international food): https://www.bullhotels.com/hoteles/reina-isabel-spa/restaurante-panoramico-en-las-palmas-de-gran-canaria.
Bom Gosto (portuguese food): https://www.facebook.com/bomGostoLasPalmas/?ref=bookmarks
Casa Victoria (philippine food): https://www.facebook.com/victoriaglobio/
Pubs
El tendedero de Santa Catalina: https://www.facebook.com/El-Tendedero-de-Catalina-393783204149170/
El viajero: https://www.facebook.com/elviajerolaspalmas/
Ginger: https://www.facebook.com/gingerlaspalmas/
La terminal: https://es-es.facebook.com/laterminalbar/
Cups for the night owls:
Kopa Terraza: https://www.facebook.com/kopalaspalmasterraza/
Tao Club & Garden: https://www.facebook.com/taoclublaspalmas/
It's worth walking around:
El Confital (following the walk of Las Canteras beach to the "Puntilla").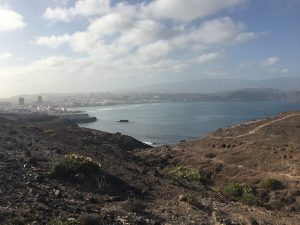 Jardín Canario (Canarian Garden). In Tafira. You can enter from below (the flat area, cactus garden, ponds, etc) or from above (point D on the map), and go down the barranco by the paths inside the garden. You can get there by bus from Las Palmas to the area below (A on the map). It is a botanical garden with a lot of Macaronesian flora. Free entrance. Do not miss the laurisilva area, nor the dragos, nor the tomb of the Swedish naturalist to whom we owe the garden. http://www.jardincanario.org
Tip!
Carry always a sweater and a swimsuit!
In Santa Catalina Park and in the Avenida de la Playa de las Canteras you will find tourist information offices.